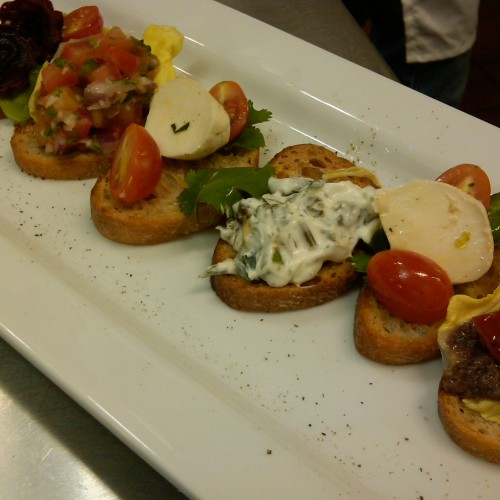 The aprons are out, the ovens are hot - Cooking for a Cause is this Saturday! Stop by Brunswick Crossing from 12 - 4pm on November 10th to taste holiday treats from Frederick's finest restarunts, watch our chefs dazzle with cooking demonstrations, collect recipes and holiday decorating ideas as our 4 gourmet model home kitchens come to life! Brunswick Crossing's Chefs are not just cooking for fun - they are cooking for a great cause. Share the Harvest - bring out your canned food donations to benefit the Brunswick Food Bank.
Everyone who brings a canned food item is entered to win at $50 gift certificate to Dutch's Daughter Restaurant!
Meet the Chefs & Participating Restraunts at Brunswick Crossing!
Dutch's Daughter Restaraunt
If you haven't eaten at Dutch's daughter, you are misisng out! Winner of multi-year "best of Frederick" awards, Dutch's will be providing delious samples of Filet Beef Tips and desserts.
Canapes Catering
Canapes is new to "Cooking for a Cause" this year, but will be bringing some amazing holiday foods for guests to try! Goat Cheese Fritters, Southern Burbon Pecan Chicken, Fried Creole Turkey and Butternet Squash Ravioli... yum!

Moxie Bakery
Moxie Bakery and Cafe is a social enterprise operated by Cakes for Cause and provides job training and support to youth in Frederick who have aged out of foster care or who live in public housing in our community. Moxie offers youth apprentices real work experience and learning opportunities that put them on the path to successful adulthood. We thank Moxie Bakery for returning to Brunswick Crossing and helping us with our cause, to help fill the Brunswick Food Bank! Moxie will be demonstrating in the Essex model home after 2PM.

Ladies Auxillary
Their pie crust is a secret and the ladies know it! The Brunswick Ladies Auxillary supports the Brunswick Volunteer Ambulance and Rescue Co. in addition to making the best desserts you ever tasted. Stop by and try their famous pumpkin angel food cake! The ladies will also be on hand all day demonstrating!
Frederick County Career and Tech Center
Taste the talents of some shining stars in our community! These local chef's have donated
desserts for our holiday meal tastings and will be demonstrate their talents in our model homes.
The Cause: The Brunswick Food Bank
Share the Harvest: Please bring canned food donations and place them in the grocery cart in the visitors cottage! Everyone who brings a canned good item is entered to win a $50 Dutch's Daughter gift certificate, our way of saying thank you!

The Brunswick Food Bank provides meals to over 300 families a year in the Brunswick Area. Staffed by volunteers and donations, the Brunswick Food Bank serves as the model for the other 8 food banks of Frederick County. All canned and boxed food donations benefit the Brunswick Food Bank.