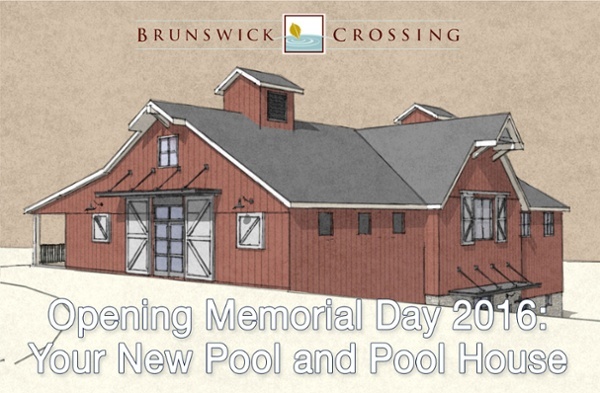 Pleasants Development is excited to share some of the details of our new community pool with his and her locker rooms, planned opening Memorial Day 2016 at Brunswick Crossing. The new 5-feet-deep, resort-style recreational pool will feature a 44-square-foot relaxation sundeck that is perfect for lounging and safely getting that summer glow. The lifeguard-monitored pool will also have an interactive beach entry spray pad, which will include 7 fountain-effect beach bubblers, 11 interactive sprays and 3 archways for endless hours of splashing around with family and friends.
Attached to the main pool will be a 25-metre, 6-lane competition pool for those who are looking for a crisp, cool morning workout in the water. There will also be a three-armed Tumble Bucket, a Single Pipe Fall feature and a 20-inch open-racer, single-flume aqua blue family slide for tons of games and excitement.
For your little one's enjoyment, we are also building a Kiddie Play Pool with a beach entry. Do not forget to lather on the sunscreen before your toddler runs into our highly interactive splash zone. They will be entertained for hours by climbing on the Lil Squirt Whale, dancing with the floatable snake and playing with any one of the 5 beach wash bubblers.
No more worrying about travel, time or expenses for our neighbors. Brunswick Crossing's new community pool is the perfect family getaway during those toasty summer days. Residents of the community and their guests will be able to use their passes from Memorial Day to Labor Day.
We can't wait to see everyone at our new community pool next summer, and a special thank you to all who came out to celebrate during our Pre-Pool Party last weekend!