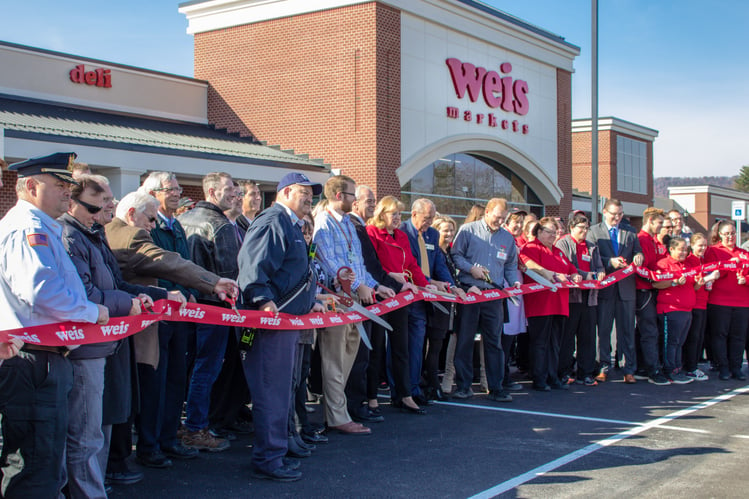 Weis Markets at Brunswick Crossing opened on Nov. 16, 2017 in Brunswick, Maryland.
The ribbon cutting ceremony in front of the six-pump Gas N' Go fuel station began with the national anthem by the Brunswick High School (BHS) marching band. The audience included about 40 Weis employees and managers and county and state government officials.
After the performance, Weis Markets Director of Public Relations, Dennis Curtin, gave an introduction to Maryland Senator Michael Hough, who commented on this "very exciting day in Brunswick" that created 150 full- and part-time jobs.
Maryland State Delegate Kathy Afzali, Store Manager Allen Moats, Chief Operating Officer of Weis Markets Kurt Schertle, and Brunswick Mayor Jeff Snoots also spoke at the podium.
"We appreciate Weis Markets for building in Brunswick Crossing," Jan Gardner, Frederick County Executive, said. "You do a great job of serving the community. We're here to support you now and in the future. We're here for you because...you've been here for us."
After the speeches, Weis Markets revealed individual $500 donations to the Brunswick Volunteer Ambulance & Rescue Company and Brunswick Branch Library. The company also donated $1,000 each to the Brunswick Police Department, Brunswick Volunteer Fire Company, and BHS marching band.
To top off the genorosity, Weis donated $50,000 to the Maryland Food Bank in conjunction with their annual Fight Hunger program, which generates hundreds of thousands of meals for those in need. Weis also donates to community-based healthcare organizations, focusing on clinics benefitting women's healthcare, mammography screenings, and pediatric programs.
After the ceremony and donations, the 56,800-square-foot grocery store opened for a test run. Guests flooded through the entrance, passing for-sale Christmas wreaths and signs for curbside pick-up for Weis 2 Go Online.
Upon entering, guests noticed a full-service pharmacy, Weis 2 Go hot meals, and fresh produce that boasted 1,000 conventionally grown items and 200 organic items, including eight varieties of fresh-squeezed juices.

The deli, labeled with trendy subway tile, offered made-to-order sandwiches with Dietz and Watson sliced cheeses and meats and brick-oven pizza.
A nearby salad bar and expansive food court offered samples of orange slices, pretzels, seltzer water, and more. Hand-rolled sushi, a self-service milkshake and smoothie machine, the European fresh flower market, and a wok station were also on display.
The bakery offered samples of vanilla and chocolate cake with ice cream amongst for-sale artisanal breads, gourmet cookies, premium chocolates, and specialty cakes by the slice.
The back-of-the-store service seafood and meat departments offered samples of Swiss burgers and garlic parmesan panko amongst sustainably caught fish fillets, crab cakes, seafood salads, smoked fish, and custom-cut Certified Angus Beef with a wide selection of organic and natural pork, poultry, lamb, and store-made sausage.
Shoppers perused through 1,500 organic and gluten-free grocery, dairy, and frozen products, as the store's eco-friendly sustainability initiatives were tested.
The store offered natural lighting and enclosed refrigeration technology to reduce energy, as well as a demand-response electrical system to conserve energy during peak hours of operation. The polished concrete floors also required no wax and few detergents, which lessened the impact on local water systems.
As people swirled around him, Jonathan H. Weis was on site to ensure smooth sailing on day one.
As chairman, president, and chief executive officer of Weis Markets, he commented on how Brunswick, Maryland, was a growing community with a great quality of life, making the city an obvious choice for their newest grocery store.
Brunswick Crossing is Weis Markets 51st Maryland location.