In 2016, we welcomed almost 100 new neighbors whose new homes were completed during the year, and our up-and-coming neighborhood was the No. 1 selling community in Frederick County, Maryland. So, why do people choose our community above the rest?
Amenities. Brunswick Crossing is the perfect staycation destination. Our community has quality outdoor amenities for active residents to enjoy, including soccer fields, tennis and basketball courts, more than 26 miles of trails and walkways, and playgrounds and tot lots.
Along with these amenities, our brand-new pool house has a fitness center, locker rooms, and craft room. Outside, there's something for everyone in the 5-foot deep, resort-style recreational pool and a 25-metre, 6-lane competition pool.
This amenity also includes a 44-square-foot relaxation sundeck; interactive beach entry; wash and beach bubblers; interactive sprayers; 3-armed tumble bucket; 20-inch, open-racer family slide; and kiddie pool with splash zone, Lil Squirt Whale, and floating Snake.

Lastly, our community offers an outdoor fireplace and entertainment spaces, future garden plots, nearly 100 acres of wooded conservation area, an award-winning clubhouse, and a site for future small and large dog parks.
The Marketplace. Anchoring The Marketplace at Brunswick Crossing is Weis Markets, which is set to open later this year. The grocery store will offer organic produce, a full-service pharmacy, gas station, bakery, deli-food service and café, and service meat and seafood department.
In the future, the Marketplace will also have seamlessly integrated professional offices, desirable retail shops, restaurants, and more.
From our residents: "The diversity, friendly neighbors, pool and gym facilities, and the walking trails" said a Love, Ryan attendee.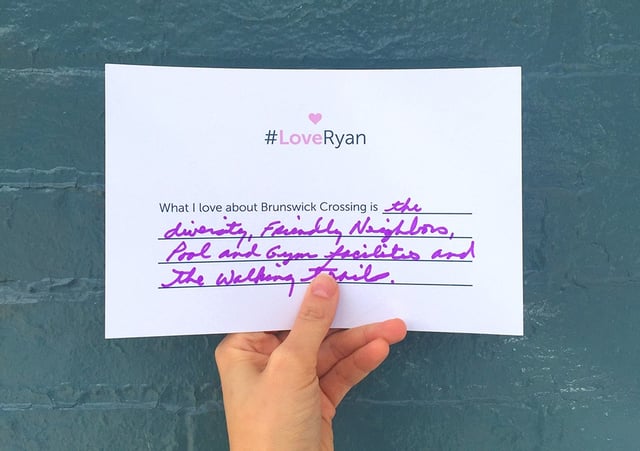 Location. Nestled on 552 pristine acres where the foothills of the Appalachian Mountains and the Potomac River meet, our neighborhood is a haven for those who love natural beauty. If you prefer a little hustle and bustle, hop on the MARC train to Washington, D.C., or drive 15 minutes to Downtown Frederick or Harpers Ferry.
If you'd rather stay in Brunswick, there's plenty to do. Enjoy one of the city's Railroad Days or Veterans Day Parade in the fall, or dine at one of the many family-run restaurants.
From our residents: "It's a wonderful location, country feel and still close to [Washington,] D.C.," said a Love, Ryan attendee.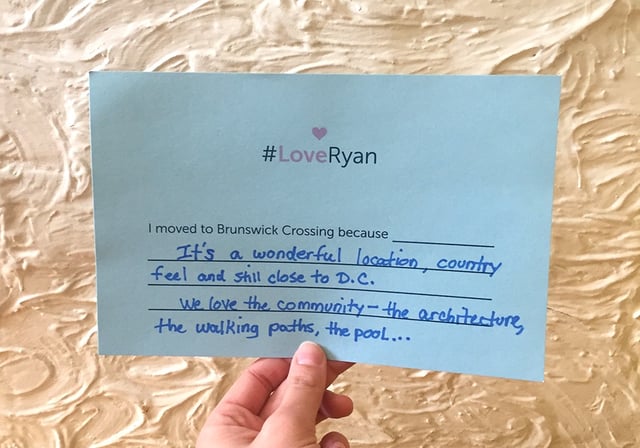 History. Though the City of Brunswick is now home to Smoketown Brewing Station and small-town baseball, it was at the epicenter of American history, including the Civil War. Learn more at the Brunswick Heritage Museum or on a Main Street Walking Tour.
Schools. As part of Frederick County Public Schools, Brunswick Elementary School is at the forefront of providing access to technology to "modern students."
Brunswick Middle School has a mission of "quality learning and positive personal development for all," while Brunswick High School offers the Advanced Placement Experience Scholars (APEX) program and other career development opportunities. The Railroaders are prepared and ready to take on the world after graduation.
Community. We pride ourselves on being a tight-knit community, full of happy residents. We're a welcome throwback to the days when neighborhoods really meant something.

From our residents: "Everybody we've run into has been very friendly, very open," said Greg Joy, a resident since September 2016. "That was very welcoming. It seems like a community."

His wife, Karen, agreed: "You just [drive] down the street, and people just wave. I like that. No one is afraid to say hi to you, and I think it's a culture this country has lost."
If this is enough to convince you to check us out, talk to a Ryan Homes sales consultant about a personalized tour through our model homes and/or community. If you need a little more information, discover your perfect day at Brunswick Crossing.